Google will let you know that you have an Unnatural Outbound Links Penalty through their Search Console dashboard (formerly known as Webmaster Tools). If you have not yet signed up for Search Console, that is your first step.
Signing Up For Search Console
Search Console contains a lot of valuable information to you as a site owner, so signing up is a great idea even if you don't suspect you have a penalty.
Head over to http://www.google.com/webmasters/tools
Once signed in, click on add a site
You then to verify that you are the site owner using one of several validation methods. I always use the Upload a file to your server method. This requires FTP credentials, which you can get through your host's dashboard
Checking for a Penalty
Google will send the following email if you are signed up for Search Console and they hit your with a penalty.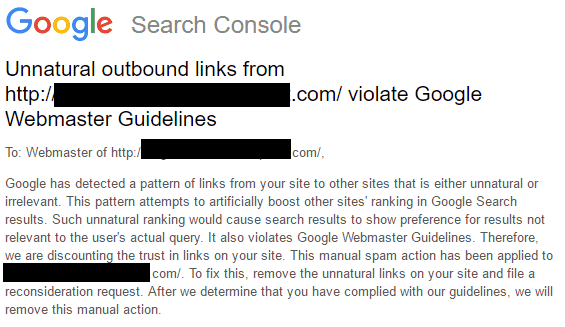 In case you miss the email, you can check manually by:
Click on the name of your site in Search Console
Click on Manual actions in the sidebar on the left
Click on Manual actions
If you have no penalties, you will see the text "No issues detected"
Otherwise, you'll see something similar to the picture below.