It's been big news in the blogging world lately.
Bloggers are being sued for their websites not being ADA compliant.
Yikes. Based on the emails we've been getting, you're getting worried.
But we're here to help with one part of the puzzle.
We are launching something new- the Image Alt Text Generator Fix. It will help you identify and update those images on your site that need alt tags added – which is a step toward both ADA compliance and SEO**.

Our fix generates an interactive list of all of the images on your site that don't have an Alt Tag. And, unlike many other tools out there, it does not require a subscription to work. Even if you uninstall our plugin, your changes will still be there.
Here's the basic breakdown of how it works: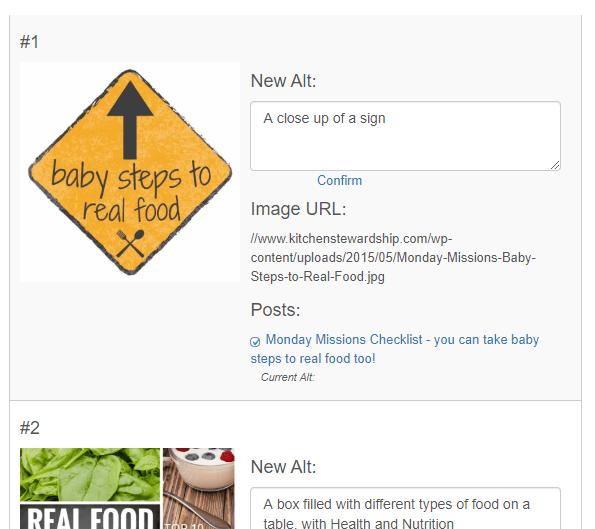 For each image that needs an alt tag text, you'll see the image, the image URL, a list of posts the image is in, and any current alt text
You can add alt text, then "Confirm" your change
Or you can choose to keep your current alt text
The fix keeps track of what tags you've confirmed, so you don't have to review them all in one go
Want to make sure your images all have alt text? Get the fix today!
FAQS
How do I get the fix?
Right here!
How much does it cost?
$149
What if I want to include more images in the fix than just those with blanks alts?
Whether Pin descriptions, meta data, or keyword dumps – we've got you covered. We can use lots of criteria (all images posted within certain dates, alts over a certain length, all alts in the post are identical, and more) to determine which images to include.
Will my alt values remain updated if I remove your plugin?
Yes! The changes will be made right in your database, permanently. As a bonus, this means it won't slow down your site by having to run every time someone looks at one of your pages.
Does this update the value in my posts and in the Media Library?
Yes, the Image Alt value will be updated in both places.
How do I write a good Image Alt Tag?
That's an excellent and very important question. Read our guide to writing a good alt tag.
**Disability compliance is a complex thing. This fix is designed to help identify images that need an alt tag added. It does not guarantee compliance.